Fitness Courses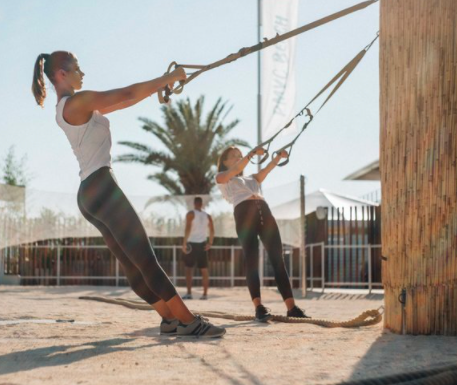 Daily Fitness Courses for kids & adults
Outdoor exercise is our favourite kind & what would be better than a daily routine by the sea.
We are providing you with all the necessary equipment & instructors.
We invite you to join in a circuit training program lasting one hour, high medium or low intensity, depending on your level, using straps-weights-pilates props-ropes and tires.
Place & time is adjusted, based on your own needs.
Personal-Semi Personal Groups (max 6 persons).
Fitness programs are conducted under the supervision and guidance of certified Physical Education trainers.
ΠΡΟΓΡΑΜΜΑ OUTDOOR FITNESS ΕΝΗΛΙΚΩΝ
| | MONDAY | TUESDAY | WEDNESDAY | THURSDAY | FRIDAY | SATURDAY | SUNDAY |
| --- | --- | --- | --- | --- | --- | --- | --- |
| 10.00-11.30 | SUP FITNESS EΝΗΛΙΚΩΝ | CROSS TRAINING | SUP FITNESS ΕΝΗΛΙΚΩΝ | CROSS TRAINING | SUP FITNESS ΕΝΗΛΙΚΩΝ | PILATES MAT | PILATES MAT |
| 11.30-12.30 | TRX | | TRX | | TRX | TRX | TRX |
| 12.30-13.30 | | | | | | SUP TRAINING | SUP TRAINING |
| 13.30-14.30 | | | | | | CROSS TRAINING | CROSS TRAINING |
| | | | | | | | |
| | | | | | | | |
| 17.30-18.30 | SUP YOGILATES | PILATES MAT | SUP YOGILATES | PILATES MAT | SUP YOGILATES | SUP YOGILATES | SUP YOGILATES |
| 18.30-19.30 | SUP TRAINING | TRX | SUP TRAINING | TRX | SUP TRAINING | | PILATES MAT |